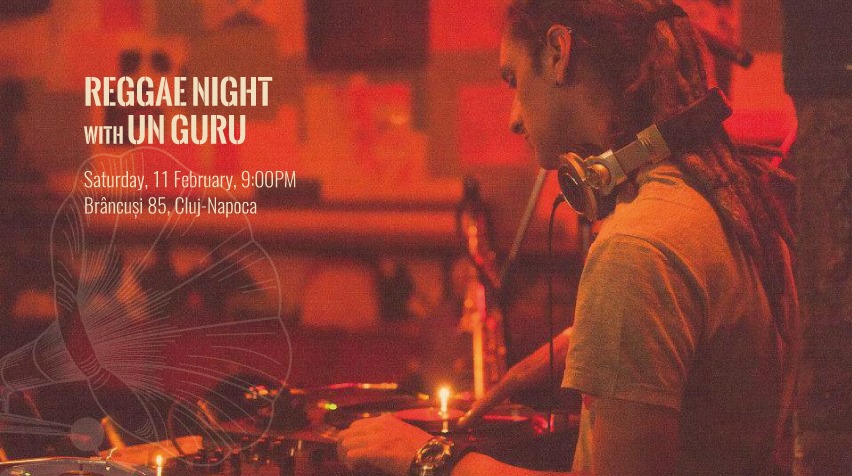 EN
This Saturday we welcome you with fine roots reggae, reggae and dub vibes. A carefully selected vinylset, by Un Guru.
Free Entry.
RO
Sâmbăta aceasta vă întâmpinăm cu vibe-uri fine de roots reggae, reggae și dub. Un vinylset atent selecționat de Un Guru.
Intrare liberă.
_________________
DESPRE UN GURU
Borbely Levente pe numele de scena Un Guru si-a inceput cariera in urma cu 5 ani in fostul Gambrinus Pub in contextul unei seri de open playlist. La acest eveniment oricine putea sa duca muzica de acasa si sa incerce sa faca atmosfera de party.

Pasiunea pentru muzica o are din copilarie. A crescut intro familie pasionata de vinyl.
Zambind ne povesteste cum a revenit la vechea lui pasiune: -In timpul patry-urilor se intampla sa i se blocheze laptop-ul, desktop-ul sau controller-ul de pe care mixa muzica moment in care era nevoit sa treaca pe placi. Dupa primele beeat-uri se schimba total atmosfera de party, sunetul scos de acest suport gadila intr-un mod mai placut membranele boxelor si urechile ascultatorilor.
A avut cateva proiecte de party precum: The Funk Soul Brothers, Trippy Sunday, Live Improve Show si actualul Freak Paradise pe care l-a implementat alaturi de Bledea Mihai, un brand in continua dezvoltare.
A avut numeroase worm-up-uri si afterparty-uri la trupele: Sfantul Asteapta, The Others, Junetrip, Subcarpati, Chimie, Cedry2k, We Singing Colors, Blazzaj, Akkezdet Phiai, Beat Dis si multi altii.
A mixat alaturi de Dj Vasile, Dubase, Kub Beat si multi altii.
https://www.facebook.com/pg/LevyTurntablist
sursa: facebook