Reburn! Refresh! Rewind!
Continuăm seria petrecerilor Burn Babylon, dedicate muzicii reggae, dancehall și dub!
Miercuri, pe 21 Septembrie, vă invităm la The Mint Club.
Gazdele serii vor fi aceleași cu care v-am obişnuit: DJ Oldskull , Phlo Da Shaolin și DJ Phenom.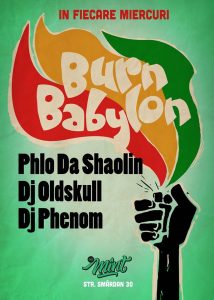 Intrarea liberă ca pasărea cerului.
Accesul în The Mint se face începând cu ora 22:00, iar numărul persoanelor este limitat.
Rezervari la: 0787.721.772.
sursa: facebook